Upcoming Trade Shows – 2019
Sept 12
Sept 17
Sept 19
Oct 2 - 4
Oct 16
Oct 23
Upcoming
Trade Shows – 2019
Sept 12
H. T. Hackney Knoxville, TN
Sept 17
H. T. Hackney North Region Fort Wayne, IN
Sept 19
J. Polep Distribution Springfield, MA
Oct 16
Harold Levinson Associates Edison, NJ
Oct 2 - 4
NACS Show Atlanta, GA
Oct 23
Allen Brothers Valley Forge, PA
​
Let's Make a Coffee Date at NACUFS 2019!
Excitement is building for the NACUFS® 2019 National Conference in Denver! The conference brings together the best and brightest from campus dining departments around the country to learn, share, and be inspired. Find us July 11 & 12 at Booth #118 to sample our delicious Java Creations® Cold Brew & Iced Coffees and find out how we can make your beverage bar better!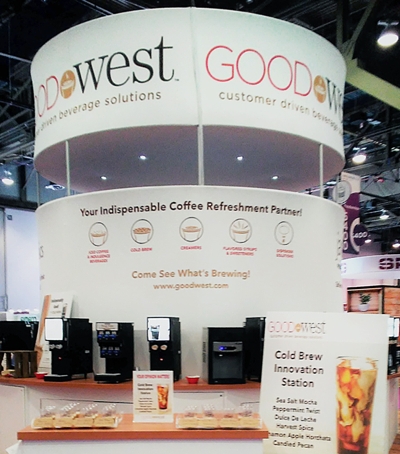 October 8 - 10, 2018 –
GoodWest was back at NACS 2018
in Las Vegas with their new look
AND lots of samples of Java Creations® premium iced coffee and
Java Works® coffee condiments.
Thanks to everyone that stopped by
to see what's new!​
H. T. Hackney
H. T. Hackney North Region
J. Polep Distribution
NACS Show
Harold Levinson Associates
Allen Brothers
Knoxville, TN
Fort Wayne, IN
Springfield, MA
Atlanta, GA
Edison, NJ
Valley Forge, PA
Headquarters and main production facility in Douglassville, PA.
Your Indispensable Coffee Refreshment Program